Nautical & Customized
Imagine transforming an entire wall into an enormous chart of your favorite sailing waters, custom-made to your wall!
You Choose the wall and your favorite nautical chart. We will create your mural on a professional grade, vinyl surface, matte finish wall covering.
other Ideas
If a nautical chart is not your favorite wall covering, then consider road maps, topographical maps, blueprints, scenic photos, family pictures.
Small space with big ideas
It doesn't take a big wall to create interest. Our wall coverings are commercial grade, mildew and mold resistant — and made in the USA. Bathrooms and Pool areas are candidates for our wonderful walls.
Great place for the
Great Lakes
Top landing became a conversation piece.
Moisture and mildew resistant
It's no wonder our clients use our products in bathrooms. Dreamscape™ is a vinyl surface, but a matte finish. Beautiful in any room.
We are proud to use Dreamscape™ wall coverings exclusively, which are proudly made in the USA.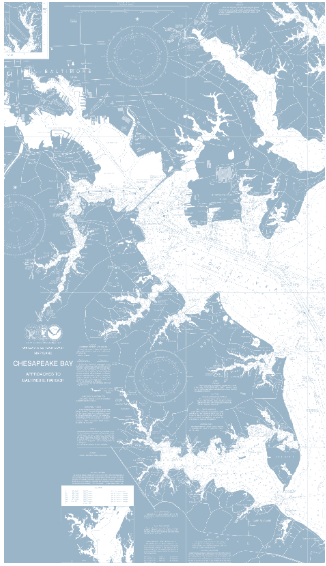 Recolored and reversed. Interesting image of Chesapeake Bay area. Just two colors in the entire chart make for a striking image!