The original, authentic Nautical Chart Wallpaper store. We even create charts that don't exist and correct resolutions on your favorite images. Interior designers and our clients have loved us since we thought of the idea in 1978.
Now, with thousands of Nautical Charts in our inventory, and millions of wonderful images online, we can work our magic to bring your favorite image to life in high resolution on your walls.
We use Dreamscape™ for our wall coverings. Made in the USA, this professional-grade, vinyl surface wallcovering is made to resist moisture, mildew, and fire.
You will see our work in hotels, restaurants, and homes across the country.
Our price of $10 per sq ft. has not changed since we opened. Shipping within the US is free. Visit our gallery for images that will inspire your creativity.
The writing is on the Wall" -- For FREE, we can add our modern cartouche to your mural, with your name on our cartouche banner as the designer.
Great place for the
Great Lakes
Top landing became a conversation piece.
Moisture and mildew resistant
It's no wonder our clients use our products in bathrooms. Dreamscape™ is a vinyl surface, but a matte finish. Beautiful in any room.
We are proud to use Dreamscape™ wall coverings exclusively, which are proudly made in the USA.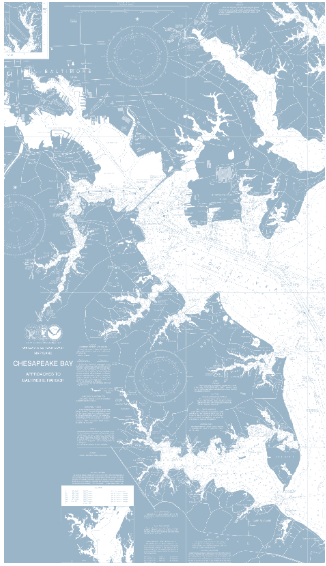 Recolored and reversed. Interesting image of Chesapeake Bay area. Just two colors in the entire chart make for a striking image!